As part of the company's Environmental, Social, and Governance (ESG) program, the OutSolve team partnered with The NOLA Tree Project to plant trees at the Sunken Gardens on Canal Boulevard in New Orleans, LA.
The Sunken Gardens was once an open drainage ditch transformed into gardens in the 1930s. The gardens went through periods of abandonment followed by restoration efforts to keep the gardens maintained. The Sunken Gardens also act as a rain garden designed to mitigate flooding, retain stormwater, and remediate and filter pollutants carried by stormwater runoff.
"Partnering with OutSolve to plant trees at the Sunken Gardens on Canal Blvd will make a huge environmental impact for Lakeview. The Sunken Gardens is a model of how we can manage stormwater in our city. By planting Louisiana native swamp plants and trees, we capture thousands of gallons of rainwater, reduce flooding, and cleaning the water as the plants filter the toxins," says Connie Uddo, Executive Director of the NOLA Tree Project.
United through service to their community and the environment, over 40 OutSolve employees came together to plant Water Lilies, Spider Lilies, Cyprus Trees, and other Louisiana native plants. The hard work completed by the OutSolve staff will not only beautify the local landscape but will have other environmental advantages like reducing the flowrate of stormwater, as well as, attracting birds and beneficial insects like butterflies and bees that pollinate plants.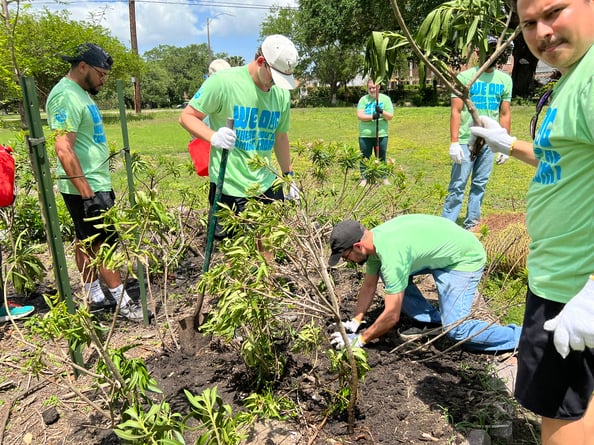 "OutSolve is committed to operating its business within an ESG framework," states Charles Carriere, Director of ESG at OutSolve. "This community-focused project has an impact on both environmental and social concerns. Everyone in the New Orleans area is keenly aware of the risks of flooding, so we are thrilled to be able to partner with Sunken Gardens to plant native flora that can mitigate flooding in this neighborhood."
With headquarters in Metairie, LA, OutSolve has been part of the New Orleans community for over 30 years. OutSolve is committed to investing in Environmental, Social, and Governance practices that serve to make a positive difference in our communities and move us forward to a more sustainable future.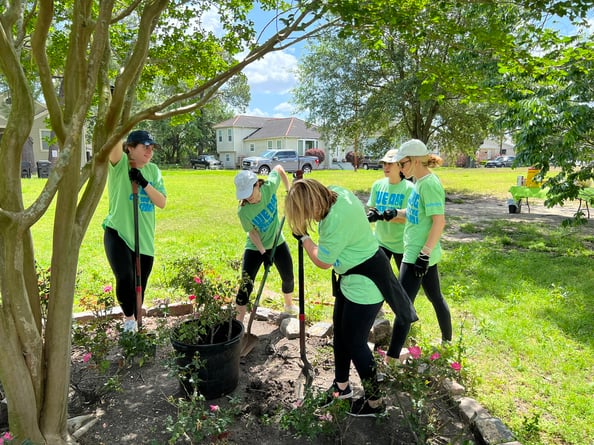 "We have been personally impacted by Katrina and Ida, and the catastrophic flooding caused by heavy rains. We understand the environmental and social benefits of companies getting involved in projects like these," states Jeremy Mancheski, President of OutSolve. "We are committed to working within an ESG framework and educating our customers and other organizations on developing ESG programs as well. Collectively, we can create long-term value for not just our businesses, but our communities."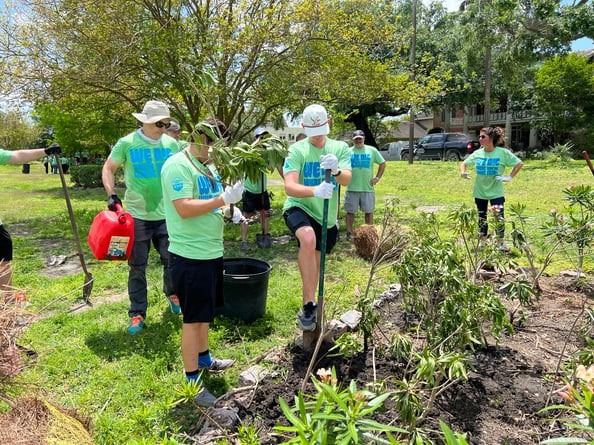 About Environment, Social, and Governance
Environmental, social, and governance (ESG) criteria are a set of standards for a company's operations that also help socially conscious investors screen potential investments. Environmental criteria include a company's energy use, waste, pollution, natural resource conservation, and treatment of animals. The criteria can also help evaluate any environmental risks a company might face and how the company is managing those risks. Social criteria examine how it manages relationships with employees, suppliers, customers, and the communities where it operates. Governance deals with a company's leadership, executive pay, audits, internal controls, and shareholder rights.
For more information on how OutSolve can help you with ESG, please click here or contact us at info@outsolve.com or 888.414.2410.
About OutSolve
OutSolve is a leading consulting firm dedicated to helping companies with OFCCP and EEOC regulatory compliance, and ESG development and reporting. We specialize in complete affirmative action plan preparation, OFCCP audit support, diversity, equity, and inclusion, pay equity analysis, and ESG. We understand that as the world evolves, businesses must change with it. From tech-enabled reporting to executive dashboards, our goal is to help you address regulatory requirements within the context of today's environment.
Since 1998 we have been a trusted resource to companies across all sizes and industries, and today we support more than 1,700 organizations and complete over 17,000 government reports annually. Our expert consultants have deep-rooted expertise in regulatory compliance, and our 98% retention rate is a shining testament to their commitment to stellar customer care.
For more information about OutSolve, please contact us at 888.414.2410 or info@outsolve.com. Please also visit us at www.outsolve.com.
About NOLA Tree Project
NOLA Tree Project's mission continues to improve, protect, and sustain the urban canopy of New Orleans by replanting trees, educating the community, and addressing significant environmental challenges. NOLA Tree Project empowers volunteers to transform lives and communities through Disaster Response, Environmental, & Community Service Projects. Learn more about NOLA Tree Project and how you can become a volunteer.