Ensure You're Prepared When the Audit Letter Arrives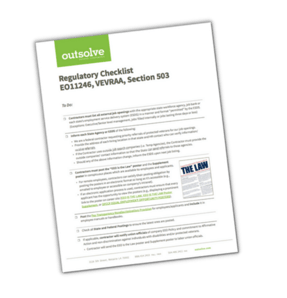 DOWNLOAD THE OFCCP COMPLIANCE CHECKLIST
What if that letter comes in today?
It's the question facing thousands of contractors every day, who constantly ponder their readiness for a potential OFCCP audit. At any moment, a piece of certified mail could arrive requiring you to turn over 22 different reports to the federal government.
Do you feel prepared?
If not, now is the time to address it. The flood of OFCCP compliance reviews is unending and the possibility of receiving that audit letter always exists.
So, even as human resources departments work tirelessly to juggle numerous internal responsibilities, there must always be an eye on government compliance and the myriad of regulations contractors are required to follow in the ever-shifting legal process.
That's where OutSolve comes in.
Rather than try to pinpoint every modification and language nuance in the Affirmative Action process, the consultants at OutSolve are here to provide a practical blueprint to effectively track compliance and serve as an expert sounding board for any questions that may arise.
The widening expanse of Affirmative Action laws has made it overwhelming for many contractors to even know where to begin.
What kind of data is required to get started? What information do I need to gather from my employees and applicants?
OutSolve's OFCCP Compliance Checklist is the perfect place to start. As federal contractors know there are specific elements that need to be in place prior to an OFCCP compliance evaluation, such as:
-Distributing and retaining self-identification forms from every applicant and employee regarding individual race, gender, protected veteran, and disability status.

-Posting every external job opening with the required state offices.

-Setting up a Reasonable Accommodation Policy for disabled applicants and employees.

-Placing the proper tagline on all solicitations/job advertisements.
In OutSolve's OFCCP Compliance Checklist you can see what all of the OFCCP's various expectations are before an audit even arrives at your door.
As with any expansive project, the most effective way to make gainful progress is by following a concise list of action items. OutSolve's consultants, and our comprehensive checklist, are here to help and provide that plan of action and the peace of mind of knowing what's ahead.