The NILG 2021 National Conference takes place August 1-4, 2021 in Nashville, TN. The conference brings together industry experts, government representatives, and professionals in human resources, compliance, legal and diversity fields to discuss the latest issues involving affirmative action compliance, diversity, and workplace equality.
OutSolve is pleased to announce that three of its experts are presenting on the following exciting new topics. Please be sure to join these virtual sessions if you are attending the conference.
Topic:
Don't Get Cancelled! How to Navigate BLM, #MeToo, and More in the Workplace
Speaker:
Victoria Person, Diversity and Inclusion Consultant, OutSolve

Topic: Flip or Flop: Making Over AAP in a D&I World
Speakers:
Beth Montgomery, Director of Operations, OutSolve,
Victoria Person - Diversity and Inclusion Consultant, OutSolve, and Mary Leone, Co-founder, Diversity Outreach Partners
Topic: Enterprise Affirmative Action Planning—A Whole New Ball Game
Speakers:
Vickie LeNormand, Sr. Director of Operations, OutSolve, Alex Gonzalez. VP, Product and Market Development, OutSolve, and
Alissa Horvitz, Member Attorney,
Roffman Horvitz, PLC
Not attending the conference? Register for OutSolve's NILG Review & OFCCP Update webinar on August 11, 2021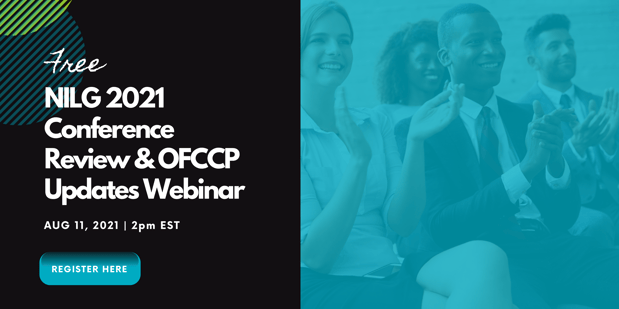 For more information on attending these sessions and the NILG 2021 National Conference, please visit https://nilgconference.com/.