Former head football coach of the Miami Dolphins Brian Flores recently made headlines when he filed a class-action lawsuit against the National Football League and three NFL teams. Part of the lawsuit claims racial discrimination against Flores when he was a candidate for head coaching positions around the league and centers around the "Rooney Rule".
The Rooney Rule was implemented as an NFL policy in 2002 and it requires teams to interview at least two minority candidates for both head coaching vacancies and senior football operation jobs. The rule does not require a hiring quota nor does it state that the team must give preference to minorities, but rather it was created to ensure all qualified candidates regardless of race are provided an equal opportunity throughout the hiring process. Sound familiar?
Flores' argument is that he was never seriously considered as a candidate for some of the head coaching vacancies he interviewed for and claims the only reason he was even interviewed in the first place was so that the teams can fulfill their Rooney Rule obligations during the hiring process. Does Brian Flores have a valid argument? Is the Rooney Rule effective at making teams broaden their outreach efforts to diversify their potential applicant pool? Or has it only become an HR compliance policy that teams follow so that they won't get fined?
If we were to create an OutSolve-style Affirmative Action Plan (AAP) for the NFL what would the total availability numbers look like for qualified candidates in the head coach job group? Well just like any company hiring for an open position, we expect to have different numbers for our internal versus external availability, so let's build our own versions of what we think these groups of candidates consist of and find out if the NFL should set a placement goal in their head coach job group.
For our internal availability, we must identify a feeder group or a natural line of progression from which vacancies are normally filled and for the head coach job group it is undoubtedly the offensive/defensive coordinators. Currently, in the NFL there are four minority offensive coordinators (12%) and 11 minority defensive coordinators (34%) making our final internal availability around 23% minority candidates. For the purpose of simplicity, let's say the head coach position gets filled by someone from this internal availability pool 70% of the time.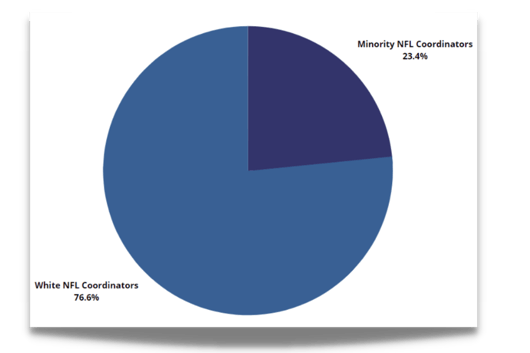 Calculating external availability, just like in your AAP, is a little bit more difficult of a process, but a good place to start would be identifying groups of people who have the required experience, knowledge, skills, abilities, and personality type that are required to be a successful NFL head coach. Three groups of potential candidates who immediately come to mind are position/assistant coaches (a step below coordinators), D1 college head football coaches, and former NFL players. If we calculate the numbers for position coaches in the NFL we find currently around 41% are a minority, and if we do the same for former and current players we find around 70% are not white. Lastly, only around 19% of college head football coaches are minorities. If we give each of those statistics equal weight, our external availability comes out to around 43% minority. Because we gave the internal pool of applicants a weight of 70%, our external availability weight will come out to 30%.
Availability Type

Raw Minority Statistics

Weight

Weighted Factor

Source of Statistics

NFL Offensive & Defensive Coordinators

External

43%

30%

13

NFL Position Coaches, NCAA Head Coaches, & Former Players

Total

100%

29.1%
If we compare the total availability numbers versus what the current head coaching landscape looks like in the NFL, we see a huge difference because there are only three minority head football coaches right now: Mike Tomlin, Robert Salah, and Ron Rivera.
Does this mean that the Rooney Rule is failing? Not quite. Even though the rule does not require teams to hire minority head coaches, it does require teams to expand their applicant pool and give everyone who is qualified a fair shot to prove themselves in the interview process regardless of race. A perfect example of the impact of the Rooney Rule is Mike Tomlin who is still the head coach of the Pittsburg Steelers. In 2007, the Steelers interviewed Tomlin for their head coaching vacancy with little expectations in part to fulfill their Rooney Rule requirements; however, Tomlin quickly became a top candidate after consistently impressing the team during the interview process and eventually was hired.
This is an example of someone who might not have gotten the opportunity to even be considered for the head coach hiring process, but because the Rooney Rule forced NFL teams to expand their recruitment efforts and consider a more diverse group of qualified candidates, he was given an opportunity and capitalized on it.
Even though the NFL has consistently updated the Rooney rule to include not only applicant requirements but also incentives for teams to hire minority candidates for top-level positions, you don't have to be an expert in statistics to realize the numbers still don't add up. How can a league where close to 70% of its players are minorities only have three minority head coaches? If we use the rough availability numbers we came up with our availability analysis, the pool of qualified candidates for the vacant head coaching jobs in the NFL should be around 29% minorities which is a significant difference from the current 10% minority representation in the NFL.
The NFL knows it has a representation problem not just for its head coaches but for the majority of senior-level executive-type positions. Over the last five years, the league has actively been trying to come up with solutions like the expansion of the Rooney Rule, implementing short/long-term diversity initiatives, and testing the results of their programs on a yearly basis to see if they are working. Every year the NFL hires a third-party to come in and publish their Racial & Gender Report Card that gives an honest assessment of where the league currently stands in terms of diversity and sets goals for where it should be in the future. This year's report gave the league a C+ for their racial hiring grade for head coaches and a B+ grade overall which shows there is still room for improvement. Until the top decision-makers of each NFL team completely remove any potential bias they might have during the hiring process and seriously consider all candidates who are qualified, the NFL will continue to lack minority representation in their head coaching positions. For more information about affirmative action, pay equity, or diversity, equity, and inclusion, please contact OutSolve at info@outsolve.com or 888.414.2410