It was all puppy love at the OutSolve headquarters in Metairie, LA. Thanks to Take Paws Rescue, a volunteer, foster-based, non-profit rescue group based out of New Orleans, LA.
OutSolve brought in Take Paws Rescue as an employee wellness initiative, and a way to show appreciation for their employees' hard work. Given the state of the world today, OutSolve wants to do its part to combat the stresses employees may feel at work. Studies show that a "puppy event" like the one at OutSolve, may help switch off mental stressors, lower blood pressure, and even help with employee interaction and engagement. Aren't these benefits simply paw-some!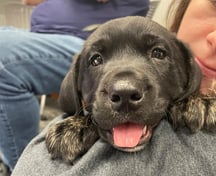 When asked why the company decided to do this, Laura Roots, HR Manager at OutSolve, stated, "It was a special stress-relieving surprise for our office…Puppies!!!!!!! Yep, 5 baby labs came to snuggle and play. We encouraged everyone to take some time away from their desk and unwind. We headed back to our desks refreshed! It turned out to be a win-win. We gave back to Take Paws Rescue and they gave us a memorable time."
The event was a big hit. When employees learned what was happening, they anxiously awaited these little pups' arrival. Once they arrived and were placed in a safe environment, everyone convened in the company's large training room, where the sound of "Puppy Lullaby" was playing. The mood of the room shifted from high to mellow as the puppies napped on shoulders, and nuzzled their noses on laps. Cuteness overload!
OutSolve plans to do more employee wellness events like chair massages, lunch pick-me-ups, fitness breaks, and even community service events tied to improving the environment. On April 21, 2022, OutSolve employees will volunteer at the NOLA Tree Project to help with restoration and water mitigation efforts by planting grass, trees, and bushes.