The deadline to file 2021 pay data reports is April 1, 2022, instead of March 31st
The California Department of Fair Employment and Housing (DFEH) has posted updates to its California Pay Data Reporting Portal which includes the User Guide for the 2021 reporting. The California Pay Data Reporting landing page also provides links to the Pay Data Reporting portal, user guide, Excel template, CSV example, FAQs, and pay data-related questions.
As indicated in the user guide, the "top five changes from the 2020 report" include:
1. New filing deadline of April 1, 2022, with no deferral period. The previous filing deadline of March 31st was changed since it is Cesar Chavez Day, a holiday in California.
2. The Pay Data Report requires employers to group their employees by job category, pay band, race, ethnicity, and sex and report to DFEH the number of employees within each group and the total hours worked by the employees in that group. The updated pay bands, established by the Bureau of Labor Statistics, are as follows: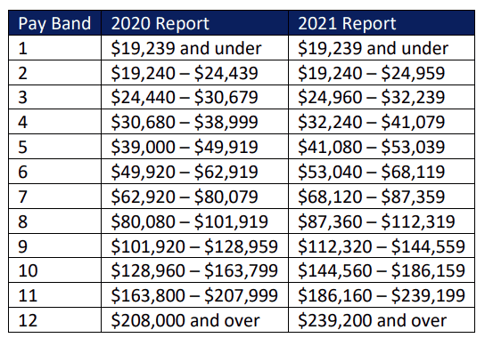 3. New registration process with the ability to view certified reports. Employers that filed the 2020 reports after July 1, 2021, will need to re-register.
4. New interface to upload data. Employer information will be provided through a series of on-screen questions in Section I, whereas, establishment information and employee detail, Section II, will still be provided via a data upload file or manual entry.
5. All reference materials, including the user guide, have been updated for the 2021 Pay Data Report.

OutSolve's Take
Contractors should take note of these changes in preparation for filing their 2021 pay data report. If you would like assistance with your filing, please contact us here or your OutSolve Consultant directly at 888-414-2410 or info@outsolve.com.